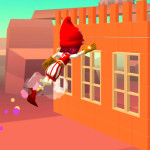 Jump The Wall is a fun dance, so why not join in? Your objective is to scale those tall walls and collect the large payout that is rightfully yours at the other end. You will feel lightheaded if you trip or otherwise face an obstruction. Relax and get the race going again! There's no need to panic. As you go through the game's many stages, you'll face increasingly difficult challenges and increasingly difficult barriers. Each challenge calls for a unique vertical leap.
It's easier to aim low while breaking through a windowed wall than a solid one. There are also plenty of difficulties to be encountered. When facing imminent challenges, use power-ups to help you get through them. Power-ups can be obtained by destroying the gold boxes labelled with question marks. Do your best to come in first.
More Nitro Speed is available for those who prefer action games.
How to play
Use mouse or touch to play.