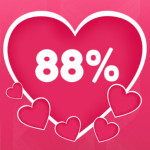 What is the credibility of your love? Love Tester is a game in which you can assess your romantic compatibility. Simply input your name and theirs, and the AI system will use an algorithm to determine the level of affection between the two names. You can also verify the names of individuals. Try various spellings and aliases for a wider variety of results, and select the one you prefer.
Consider these outcomes to be amusing. First, you can select two individuals or three-person groups. Choose your gender, and then wait for the outcome. Share the results you obtain with your peers. Additionally, you can play other games similar to Alien The Way Of Love.
How to play
Use the mouse to play. Use the keyboard to write the name.