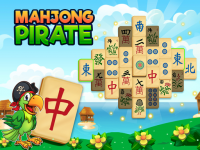 The board game Mahjong Pirate Plunder Journey features a pirate setting and gameplay. Climb aboard your ship as soon as you are confident that you can complete the mahjong puzzle by matching all of the tiles. All of the pirate flags, as well as the cannons, swords, and other items, can be connected to one another.
Your objective on each level is to acquire the maximum number of stars possible so that you can unlock additional levels and backgrounds. You will earn one star at the end of the level if you are successful in completing it. You will receive an additional star as a reward for ignoring the hint. If the level is finished in a relatively short amount of time, the player receives a third star as a reward.
This brainteaser is entertaining for people of all ages and skill levels. Matching the tiles on each level will take you on an adventure in which you play the role of a pirate. To complete a level, you will need to link together two tiles that are exactly the same.
Feature
You have the option to play pirate mahjong once an hour or once a day.
Advance in levels to increase the number of stars, gold, and diamonds you collect.
How to play
To complete the level, you must pair up the bricks.