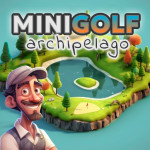 Minigolf Archipelago is a very enjoyable golf game. You don't have to waste time traveling because you can play golf right here. You must hit the ball into the correct hole here. Enjoy some soothing music. Complete each of the 18 levels. Use your math skills to calculate and place the ball precisely in the hole. Each level will have a hole that will be designated with a flag. Calculate your shot's power and trajectory.
Make it your goal to sink the ball into the hole with as few strokes as possible. The first thing you should do is get the ball into the starting position, then decide how hard you want to hit it. Aim for the highest score that is achievable. Conquer all of the obstacles that you find on the island while you explore it. You can also challenge yourself with other golf games, like Crazy Golfish.
How to play
Use the left mouse button to hit the ball into the hole.