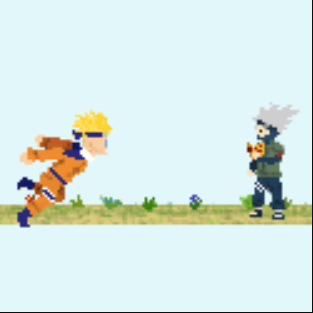 In Naruto Run, transform into Naruto and perform jumps. Control Naruto as a ninja to overcome all obstacles and live as long as possible. Run and jump with finesse! Your mission is to keep Naruto under control and avoid being hit by the flames, characters, snakes, and darts. Crouch down if you come across a hidden weapon. If you don't want to lose your life, your actions must be consistent and precise.
Naruto Run is an endless runner. With a simple design and 2D graphics, this game was inspired by Dino Game. This game has been greatly enhanced. In your spare time, you should play and relax. The game begins quite easily, but as time passes, the game becomes more difficult, the character's movement speed increases, and the obstacles increase. Use your finger flexibility to perform operations quickly and accurately. Have a good time!
You can also try Godzilla Run if you enjoy endless running games like dinosaur games.
How to play
To begin the game, press the spacebar. Naruto is controlled by the up and down arrow keys.