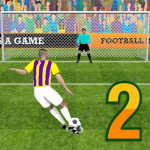 With 360 teams to choose from, Penalty Shooters 2 is a football simulation game like no other. Here's your chance to play for your squad and bring home the Cup. When the goal is directly in front of you, you have five attempts to score. In a penalty shootout, the team with the most points after both teams have taken their penalties is declared the winner.
Create well-defined objectives and take well-aimed swings. If you want to protect the goal, you need to hear the finest assault plan. Kick with sufficient force and at the optimal angle by keeping an eye on the red dot on the screen, which indicates the best place to kick. To stop the penalty kick, you'll need to get your hand right in the center of the goal. There are 12 separate events, ranging from group stages to finals. Are you prepared?
Similar games
If you enjoy Penalty Shooters 2 and sports games, check out the games listed below.
How to play
To aim and fire, click and hold. Allow me to kick now.

Click and hold to perform a ball break. Released to dive.