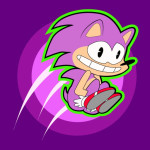 Sonic Rush Toilet is a fun game that stars the charming, hilarious Sonic. Your job is to assist Sonic in getting to the restroom as rapidly as possible. Sonic has a stomachache, and you must assist him in overcoming the hurdles in his path to the toilet. How far can you get with 40 distinct, difficult levels? There will be obstacles such as buckets, other characters, or anything else that can get in your way. You can get ahead if you are sensitive and jump over everything.
Each level has varied challenges, but the ultimate goal is to reach the toilet. To respond quickly, jump from one platform to another or evaluate the scenario at the time. You can also play Super Mario and Sonic if you prefer the Sonic character.
Feature
2D pixel images in vibrant colors
Running and jumping gameplay in the style of a platformer
Missions that are both amusing and hard
The game's characters are well-known
How to play
The arrow keys are used to move the character and the right mouse click is used to break the boxes and other things.