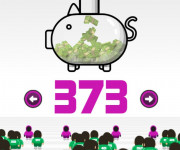 The popular Netflix series "Squid Game" inspired the multiplayer survival Squid Game. In it, you can play Red Light, Green Light, but with much larger bonuses due to the fact that you are competing against other real players. It's just the introductory game; if you pass it, you'll face another obstacle. Confront seven mini-games and 30 other players. What plans do you have to win?
Games Mini List
Red Light, Green Light: The game consists of a large doll and two armed guards who will shoot you if you move when the doll announces "red light." You can only proceed on the green light when the doll is facing away from you. To win this round, you must move only when the doll is facing away from you. Avoid elimination in the first round!
Dalgona Candy: You are taken to a makeshift playground and asked to choose between four different shapes: a circle, a triangle, a star, and an umbrella. With only a certain amount of time, you have to pierce your shape with a needle without breaking the candy. If the timer runs out or breaks the candy, you will be disqualified.
Tug of War: You and your teammates will tug with the other team. Try to win to go to the next round!
Marbles: Try to get as many marbles as you can.
Glass Stepping Stones: Try your luck by crossing a glass bridge without falling down.
Judgment Night
Squid Game: This is the final part and decide who is the winner.
How to play
Every minigame will have its own set of instructions. Follow the directions given.