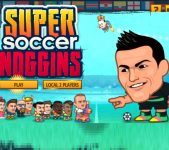 Get ready for the most thrilling soccer game ever with Super Soccer Noggins! Take control of your chosen player, participate in a series of crazy soccer matches, upgrade the abilities of your players, and so much more! Do you have what it takes to win all the cups?
Super Soccer Noggins puts players in a world of fantasy football. Players begin their first match on a relatively normal soccer field, but as they progress, the whole field will become more and more interesting! From moving grounds to bouncing patches, there is no shortage of crazy moments! With each match complete, you will receive money and use that to upgrade different aspects of your player, including running speed and kicking strength! Utilize the power-ups in the matches and achieve victory in Super Soccer Noggins!
How to play
Control the player with the WASD or arrow keys.

Kick the ball with the spacebar or the X key.
Related Games