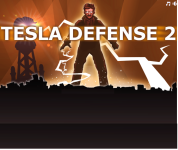 Get ready to defend your tower from the invasion of an evil army with Tesla Defense 2! Place different kinds of towers on the ground to take down enemies before they can reach your tower! Best of all, you can take part in the attack by zapping them with powerful electricity!
Tesla Defense 2 features fast-paced gameplay that will put your real-time strategizing skills to the test! The objective of each level is to take down the waves of enemies before too many of them reach the tower. Since they come in different forms, players will have to take them down with ground and air towers. Upgrade your towers and abilities after gaining enough money from each wave, and get ready to face powerful bosses with Tesla Defense 2! Do you have what it takes to complete all 25 levels?
How to play
Click on the enemies to electrocute them.

Place carious contraptions and attack by pressing the number keys from 1 to 5 and clicking on the ground.
Related Games