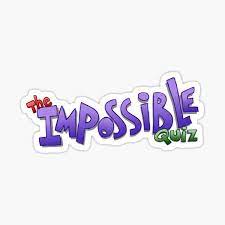 The Impossible Quiz is a puzzle game that includes a multitude of clever hints, tricks, and double meanings. This will be a game that will both delight and develop your mental agility. Apply logic to answer questions. You only have three opportunities to respond, so each time you do, you should carefully consider your response. The player's ultimate goal is to complete the test by providing the correct answer within a set period of time. You will draw strength from your knowledge as you attempt to complete and solve all riddles. There are puzzles that deceive players, so maintain your sanity to yourself at all times. You should test yourself with this game's sequel, The Impossible Quiz 2!
Feature
Skip: Allows the player to bypass game-specific questions.
Bombs: a timer ranging from 1 to 11 seconds. If the player does not answer the question within that time, the game is over.
110 questions, comprising classic original questions and challenging questions.
Stunning visuals with numerous cartoon details.
Many various difficult questions.
How to play