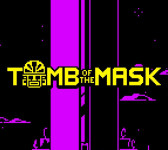 Become an adventurer in Tomb of the Mask, a retro game with a rapid pace. You will initially enter a labyrinthine realm filled with several deadly traps. In a large, mysterious labyrinth with countless rooms awaiting exploration, to be able to overcome any obstacles, you must be able to deftly dodge or deal with unforeseen circumstances.
Utilize your agility, quick reactions, and intelligent thought to overcome all obstacles. Discover Tomb of the Mask in 2 modes: Arcade and Level. Run in Arcade mode to overcome obstacles and uncover intriguing details, especially when you must earn a great deal of money along the way. As you progress through the levels in Level Mode, you will face increasingly challenging obstacles. Each of your stages has a limited amount of time to complete it, and you will receive an enticing bonus at the conclusion of the screen. Are you all set?
If you enjoy classic-styled vintage games, you can play more Pacman 30th Anniversary and Mario T-Rex Dinosaur Game.
Feature
Basic 2D graphics in a retro style.
Navigate the maze filled with perilous adventurers.
The gameplay is straightforward and rhythmic.
Improve your reflexes and logical thinking.
How to play
To play, click the play button.