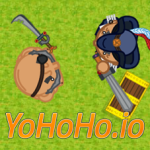 Welcome to Yohoho.io, a fantastic pirate game. Your ship has sunk, and you've washed up on an island. There is no other option but to fight the pirates on the island in order to save your life and become the new owner here. Fight various pirates while attempting to collect as many coins as possible. Buy new characters with the coins you obtained illegally. Characters that are more expensive have more power. When you have enough gold, you can also purchase pets that provide benefits such as health restoration.
Yohoho.io is an IO game with melee combat. To win, you must be both strong and intelligent. It's wise to devise reasonable strategies. Strong enough to hold off various pirates. Sign up and start playing! You can also challenge yourself with different series of .IO games such as LOLBeans.
How to play
Use the mouse or the WASD/arrow keys to move.

Press the LEFT MOUSE BUTTON or the SPACEBAR to attack.