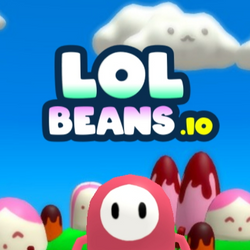 Multiplayer racing fun in LOLBeans! You might be competing against a lot of other people, and you definitely need to watch out for the obstacles in order to win this race. The difficulty increases with each new level. In order to win, you need to be the very last person to reach the finish line.
Those who are unable to cross the finish line before the round ends will be eliminated. If you cross the finish line, you'll be able to keep playing. There are a lot of things in your way, like steep inclines and flying hammers. This battle royale game is now available for your immediate enjoyment.
It's also possible to play Fall Beans and Fall Boys And Girls. These are also two games based on the same idea.
How to play
To move, use the WASD keys or the arrow keys.
You can quickly advance by pressing the right mouse button or the space bar.
Exploring the environment is done with the mouse.