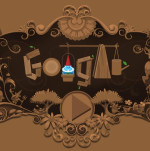 Celebrating Garden Gnomes is a game dedicated to garden gnomes. The player's mission is to assist the dwarf Gnoggin in overcoming the difficulties. Launch the clay gnome as far as you can in the garden using your catapult. Act at the appropriate time to release the gnome; otherwise, the gnome will fall behind or directly in front of the catapult. You will waste a shot if you miss.
Experiment with launching your gnome as far as you can. When your gnome collides with objects such as logs and mushrooms, it will bounce even further. Navigate through many stages, collecting items and avoiding hazards. To get higher, avoid flying bees and jump on mushrooms. Graphics with vibrant colours and thrilling noises—try it today! Furthermore, you can play more Pony Express.
How to play
Press space on your keyboard to get the catapult to move, then press it again to launch your gnome.