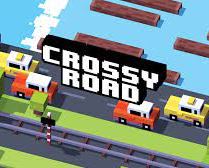 Welcome to Crossy Road, a fun game that you can play indefinitely. To avoid obstacles such as rivers, trees, rocks, and moving vehicles, you must control the chicken. Go as far as you can! Remember to collect coins. It allows you to unlock numerous characters as well as numerous interesting features. Are you ready to have some fun?
Game Tips
Adapt your route to the obstacles and terrain type.
Forwarding isn't always the best solution.
Stop whenever possible to observe the road ahead.
In the car sections of the game, the best way to cross the road is to tap the screen as soon as a car passes—the road must be cleared quickly.
When crossing rivers and tracks, always be cautious and go as quickly as possible. If not, wait for the chance.
How to play
To move, use the arrow keys or WASD.

Collect coins to gain access to new characters.