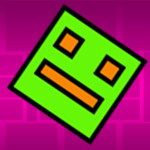 Geometry Dash Classic is a simpler version of Geometry Dash. Green is the dominant colour in the simplified visuals and stages. Players must dance to the music while overcoming numerous hurdles. It is required to pay attention to the sharp spikes, jump over them with expertise, and stroll on the platform. To get the most stars, go all the way to the end of the path.
It's great that this is a game that can put your reflexes to the test. Avoid spikes, take erroneous turns, and hit the orbs with perfect timing. Catch the correct beat and dance as needed. Are you now prepared to face the difficult tasks that lie ahead?
How to play
Use arrow and left mouse to play.