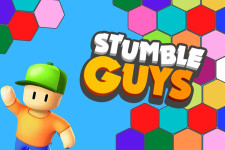 Welcome to Stumble Guys, a multiplayer game. You must compete against 32 other individuals from around the globe. Conquer obstacles and other competitors in order to reach the finish line. How do you overcome challenges? First, maintain a positive attitude and a firm stance to move forward.
As the clock counts down, you must be faster than many other competitors. If not, it will be reversed and the game will end. If you stumble, get up! Enter rounds of growing turmoil to advance through several stages until a victor is proclaimed. There are a total of 17 stages, each with its own set of obstacles, such as rolling balls and spinning reels. Accomplish outstanding feats in Stumble Guys and improve your character. If you like Stumble Guys, play more games like LOLBeans and Fall Beans.
Feature
Endless multiplayer running game.
There are numerous hurdles.
Play against players from all over the world.
Beautiful graphics in a variety of colors.
How to play
To move the character, use the arrow keys.