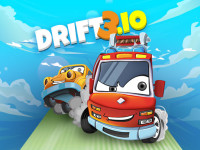 Drift 3 is a special edition racing game, in which players will show their ability to drive. To begin the game, write your name and complete a formidable feat. Many new features have been added to the game in the race drifting with this new version. Instead of driving alone on the road, you will compete against 7 other people from all over the world.
You can defeat your opponent by colliding with other vehicles and launching them into space. The pieces, or dead ends, are hazards. Otherwise, you will fall out with the crabs. You must avoid rivals and dangerous bends, and to do so, you must have solid steering. You can adjust your ability by turning on or off the instruction mode in the settings. Alternatively, you can practice more in practice mode. Furthermore, you can play the same games as Drift Hunters.
Feature
Drift 3 is a never-ending 3D racing game.
There are numerous car types to choose from, including trucks, police cars, fire engines, and so on.
There are a lot of people racing with you.
Simple mechanism with simple control.
How to play
On desktop: Press or release the left mouse button or space bar to turn left or right.

On mobile: touch or release the screen to turn left or right.