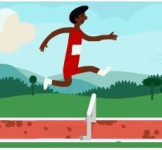 Hurdles is one of the Google Doodle games. The game was released in anticipation of the Tokyo Olympics in 2021. It is time to foster sportsmanship without fear of adversity! Your mission is to avoid tripping over the obstacles. If you miss an obstacle, your runner will knock it over and slow down, but you will not be injured.
Control a fast runner and hop over a succession of hurdles to get to the finish line as soon as possible. To win, jump as close to the obstacles as possible to avoid knocking them over when moving slowly, and then leap faster as the obstacles grow closer and you're faster. This is also the time to practise developing natural and rapid reactions. You can earn a well-deserved score by overcoming the obstacles in Hurdles. Don't forget about other Google games like Basketball 2012.
How to play
Control the runner with the arrow keys and spacebar on the keyboard.